Treat your child to a summer camp or kindergarten experience they'll always remember. Stepping Stone Learning Center in River Edge, New Jersey, accepts children ages two through kindergarten-age for half, extended, and full workdays. Children may attend two, three, four, or five days a week. In addition to regular early childhood programs, we offer several extracurricular activities. We believe in providing a safe and happy environment for your child, where he or she enjoys learning.
Early Childhood Programs
Two Year Old Group
Stepping Stone Learning Center offers a nurturing, age appropriate environment for our youngest group. Our staff gently assists children with separation anxiety, parallel play, and language development. Your child learns early readiness skills, and our staff uses visual aids and hands-on arts and crafts to teach sounds, phonics, music, dance and creative movement daily. Tremendous growth occurs during this year and we are prepared to meet our two's ever changing needs.
Three and Four Year Old Preschool Group
Your child builds social skills, makes friends, and learns in a small group setting, as well as on their own. We incorporate theme and letter weeks into our curriculum, which include various activities relating to numbers and letters. In order to stimulate interest, we enrich our program with music, computers, sports, and creative movement. Special visitors often visit to tell stories and introduce them to farm animals, reptiles, puppets, and science concepts. Our Pre-Kindergarten classes work towards preparing our children to enter Kindergarten in the Fall. Self-help skills are developed as well as responsibility to themselves, their belongings and their classmates.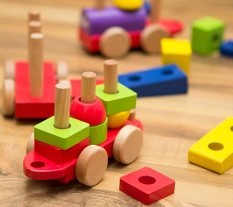 Private Kindergarten
Our full-day kindergarten program is one of the most trusted programs in the area. With small class sizes, individualized attention, and instruction from a certified teacher, your child gains an academic advantage. The curriculum is both comprehensive, challenging, and considers programs offered by the local school district. We teach in a fun and stimulating environment and have developed a balanced school day of both academic and self-motivated choices of work, socialization and constructive free time.
Summer Camp
Summer Camp Smiles at Stepping Stone Learning Center runs eight weeks, or any part thereof, during the months of July and August. Depending on the calendar, we sometimes start in late June. Children join others in their age group and we plan daily rain or shine activities, including themed weeks and age appropriate academics, arts and crafts, story time, dance and music, playground water sports, sprinklers, special events and much more.
**Signups should be done January-May. Feel free to call any time to see if there is a spot available for your child(ren).
Extracurricular Activities:
Computer Classes
Creative Movement
Yoga
Master Advanced Art Classes
Spanish Classes
Gymnastics
Soccer
Basketball
T-Ball
Ballet & Tap
And More
Contact us today to request more information about our summer camp and kindergarten programs, or to ask about our flexible scheduling options.
Call our childcare center for daily schedules, weekly themes/curriculum along with any questions you may have at
(201) 488-4905.